Harvest Chicken Apple Stew
I'm sitting here in the quiet house on a sunny, brisk Sunday afternoon. There's a fire crackling under the big screen TV with football on. The house smells like the chicken soup simmering on the stove. Most of the chores are done for the weekend, the kids are outside riding bikes while Mike saws something with some loud appliance. It's like an afternoon out of a movie.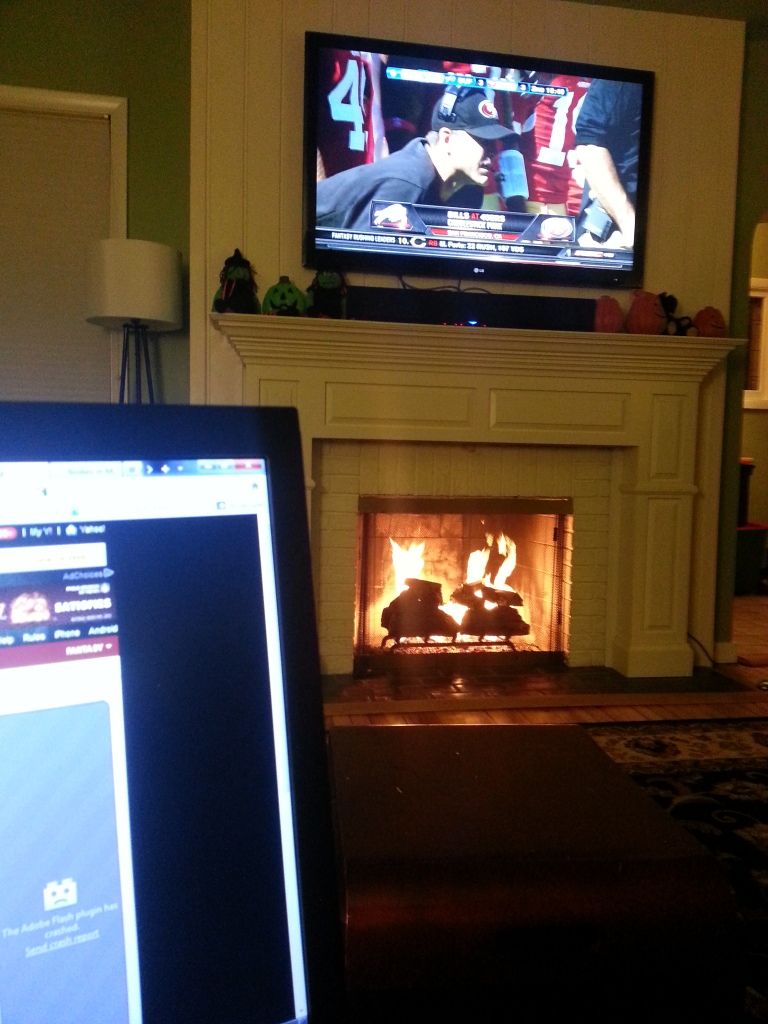 I remember nursing a newborn while changing a toddler's diaper, washing laundry, working, cleaning, and not sleeping. I remember those days and I remember thinking, "When they  get older, we'll have more time to relax" or "When they're more independent and in school, I'll have so much extra time to do things." Oh, hahahaha, old self. You're an idiot. With school-aged kids comes sports, meetings, lessons, events, birthday parties, and there is NO SUCH THING AS TIME.
This is literally, no exaggeration, the first time I've sat down with the time to write in over a week. Charlotte's started Flag Football this week, and if you say there's anything cuter in the history of man than six-year old's playing football, I will call you a Liar McLiarpants Von Firebritches.
Last week, I had a few pounds of chicken defrosting in the fridge for dinner when I remembered that Charlotte also had ice skating lessons and if I wanted to make it to the gym and get Sawyer from Pre-K on time, I would have approximately 84 seconds to make dinner. So I looked around the house to figure out what we had on hand that I could throw in the crockpot. I wanted something "fall-ish" as I am taking any chance possible to celebrate the death of this hideous summer.
The thing with these sorts of things – stews and chilis and whatnot – is that they are impossible to photograph without looking like a giant pot of goo. I used canned pumpkin to thicken it with a little bit of tapioca starch, which you can sub for arrowroot, or leave out altogether if you want or if your stew is thick enough on its own. It's up to you. I loved the flavors of the apple and pumpkin against the chicken, corn, and herbs. It was adequately "fall-ish" and required so little work, it's great to throw in the slow cooker in the morning and come home to dinner.
Recipe: Harvest Chicken Apple Stew
Ingredients
3-4 chicken breasts, diced
2 c. chicken broth
1 medium sweet onion, diced
2 medium apples, peeled and diced (~1/5-2 c.)
1 tbsp. garlic, minced
1/s tsp. rosemary
1/2 tsp. sage
1/2 tsp. marjoram
1/2 tsp. garlic powder
1/2 tsp. salt
1 can sweet corn
1 can green beans
2 c. canned pumpkin
1-2 tbsp. tapioca starch
Instructions
Place all ingredients except cor, beans, pumpkin, and tapioca starch in a crockpot.
Mix and set the crockpot on high for 4-6 hours or low for 6-8.
About 30 mins before serving, stir in the corn, green beans and canned pumpkin.
Sprinkle in the tapioca until desired thickness is reached.